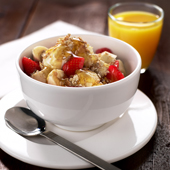 Excellent start to the day with this energy packed breakfast dish of bananas and strawberries, topped with Greek yogurt and honey crisp oats.
Serves 4
75g/3oz oats
25g/1oz caster sugar
25g/1oz butter
1 tbsp Orange Blossom honey
225g/8oz strawberries, hulled and halved
4 medium bananas, peeled and thickly sliced
4 tbsp Greek yogurt
Extra Orange Blossom Honey for drizzling
First make the honey crisp. Sprinkle oats over a baking sheet, or swiss roll tin and scatter with sugar. Dot with butter, then drizzle over Orange Blossom honey. Place in a pre-heated oven Gas 5 375°F 190°C for around 10 minutes - or until just toasted. Remove from oven and allow to cool - this makes the oats crisp and toffee tasting.
Place strawberries and bananas in a bowl and sprinkle with lemon juice. Top with Greek yogurt and finish with a scattering of crumbled honey crisp oats. Finally drizzle with a little extra honey.