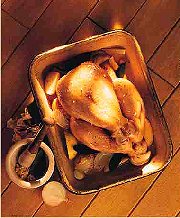 1 small onion, halved
1 lemon, quartered
1.35kg (3lb) oven-ready chicken
45ml (3tbsp) clear honey
1 clove garlic, crushed
10ml (2tsp) mustard powder
Salt and freshly ground black pepper
3 bay leaves
450ml (¾pt) dry cider
Pre-heat oven to 190°C, 375°F, Gas Mark 5.
Place the onion and lemon inside the body cavity of the chicken then transfer to a baking tin. Mix together honey, garlic and mustard with plenty of seasoning. Spread the mixture over chicken and place the bay leaves on top of the bird. Place in the oven and cook for 40 minutes.
Warm the cider, then carefully pour it over chicken and continue to cook uncovered for a further 50-60 minutes. Baste the chicken frequently during cooking and cover it loosely with foil if it becomes too dark.
At the end of the cooking time, drain the liquid from the chicken and transfer it to a saucepan. Return the bird to the oven to keep hot. In a small pan bring the liquid to the boil, then cook uncovered until it is reduced by about three-quarters of its original quantity (approximately 10-15 minutes).
Place the chicken on a serving dish and pour over the glaze.