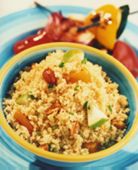 Preparation time: 15 minutes
Cooking time: 10 minutes (or as instructed on pack)
Serves 4-6
250g packet of cous cous
50g (2oz) peanuts
6 ready to eat dried apricots, chopped
1 green apple, cored and chopped
15ml (1tbsp) parsley, freshly chopped
For the dressing:
60ml (4tbsp) clear honey
15ml (1tbsp) wholegrain mustard
30ml (2tbsp) cider vinegar
15ml (1tbsp) olive oil
Cook the cous cous as instructed on the pack, leave to cool for 15minutes. Add the nuts, apricots, apple and parsley to the cous cous. Mix together the honey, mustard, cider vinegar and olive oil and add to the cous cous mixture. Serve as an accompaniment to grilled chicken or vegetable kebabs and a fresh green salad.