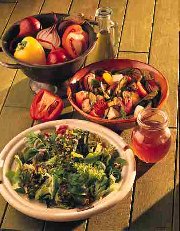 Serves 4-6
Dressing:
30ml (2tbsp) clear honey
30ml (2tbsp) balsamic vinegar
45ml (3tbsp) olive oil
30ml (2tbsp) torn basil leaves (optional)
100g (4oz) Mozzarella cheese, cubed
450g (1lb) plum tomatoes, chopped
2 small aubergines
Rock salt and black pepper
Olive oil for drizzling
1 red pepper
1 yellow pepper
225g (8oz) baby or small courgettes
Mix together the dressing ingredients in a large bowl and add Mozzarella and tomatoes. Leave to marinate.
Meanwhile, thinly slice aubergines, place on a baking sheet, season and drizzle with olive oil. Place under a pre-heated grill until crisp. Repeat, cutting the peppers into chunks and slicing the courgettes lengthways. Add grilled vegetables to Mozzarella and tomato and serve immediately.