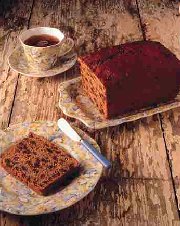 Makes one 900g (2lb) loaf
225g (8oz) raisins
75g (3oz) set honey
300ml (½pt) freshly made strong tea
2 eggs, size 3, lightly beaten
275g (10oz) whole-wheat flour
2.5ml (½tsp)ground mixed spice
15ml (1tbsp) baking powder
Place the raisins in a bowl. Stir the honey into the tea and pour this over raisins. Leave to soak for 2 hours. Stir the eggs into the raisin mixture.
Pre-heat oven to 180°C, 350°F, Gas Mark 4. Mix the flour with the spice and baking powder then mix these dry ingredients into the raisin mixture. Transfer to a greased 900g (2lb) loaf tin and bake for about 1 hour 10 minutes.
Cook on a wire rack and serve sliced and buttered.