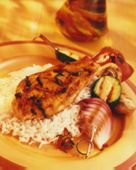 Preparation time: 1 hour 30 minutes
Cooking time: 20-30 minutes
Serves 4
90ml (6tbsp) blended, clear honey
2 red chilli, deseeded and finely chopped
30ml (2tbsp) Worcester sauce
30ml (2tbsp) distilled vinegar
15ml (1tbsp) sage, freshly chopped
Salt and freshly ground black pepper
4 skinless chicken breasts
1 red pepper, cut into 8
8 button mushrooms
1 courgette, cut into 1 cm (1/2") thick slices
1 red onion, cut into 8 thin wedges
225g (8oz) rice
Preheat oven to 180°c, 350°F, gas mark 4.
Mix together the honey, chilli, Worcester sauce, and distilled vinegar. Add the sage and season with salt and pepper.Score the chicken breasts 3 times diagonally across, place in a non metallic, overnproof dish and cover with the honey mixture. Leave to marinade for 1 hour.
Meanwhile make 8 vegetable kebabs, threading one piece of pepper, 1 mushroom, 1 courgette and 1 onion wedge onto 8 small metal kebabs. Put the chicken in the oven and cook for 20-30 minutes, basting 2-3 times during cooking. The chicken is cooked when the juices run clear.
Cook the rice according to the pack instructions. Next, brush the griddle pan with a little more oil and cook the vegetable kebabs until tender and char-grilled, turning frequently. When cooked, remove the chicken from the oven transfer to a plate and keep warm. Pour the juices and remaining sauce into a small saucepan, reduce by half. Next drain the rice and rinse in boiling water.
To serve, divide the rice between four plates, place one chicken breast on top of the rice, place 2 kebab sticks crossed on top of the chicken. Pour the sauce over the kebabs and serve.