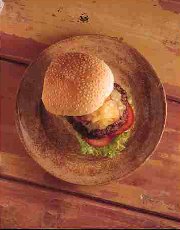 25g (1oz) butter
1 onion, thinly sliced
1 red or green pepper, sliced
Salt and freshly ground black pepper
15ml (1tbsp) flour
Juice of 2 oranges and grated rind from 1 of them
150ml (¼pt) beef stock
30ml (2tbsp) clear honey
Few sprigs of thyme
Melt butter in a saucepan, add the onion, pepper and seasoning. Cook until the onion is soft but not browned. Stir in the flour then gradually add the orange juice, rind and stock. Stir in the honey and add the sprigs of thyme. Heat slowly to boiling point then reduce the heat so that the sauce simmers gently for 1-2 minutes.
Delicious served with hamburgers.