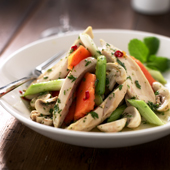 Preparation time: 1 hour 30 minutes
Cooking time: 20-30 minutes
4 medium chicken breasts, skin on
Salt and freshly ground black pepper
2 sticks celery chopped
2 spring onion chopped
2 papayas
100g/4oz button mushrooms sliced
4 spring onions, trimmed and cut on the slant
For the dressing:
2 tbsp Orange Blossom honey
Juice of a lemon
1 tbsp white wine vinegar
2 tbsp lemon olive oil
2 red chillies, seeded and chopped
2 tbsp fresh mint, finely chopped
Salt and freshly ground black pepper
Mint sprigs for decoration
Season chicken breasts and place in a pan with celery and spring onions. Cover with water. Bring to bubbling then turn down to simmer 2 minutes. Cover with a lid - and turn off heat. Leave to cool in the liquor. This ensures delicious moist flesh.
Remove chicken from liquor. Remove and discard skin. Slice chicken thinly and reserve. Peel, de-seed and slice papayas and add to chicken. Add sliced mushrooms and spring onions.
For the dressing, place honey in a bowl and stir in lemon juice and white wine vinegar. Whisk in lemon oil and add chillies and mint. Season with salt and freshly ground black pepper. Pour dressing over chicken mix and toss well. Serve immediately, decorated with mint sprigs.