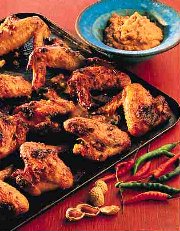 For the marinade:
60ml (4 tbsp) sesame oil
60ml (4tbs) white wine vinegar
45ml (3tbsp) crunchy peanut butter
45ml (3 tbsp) clear honey
30ml (2tbsp) chilli sauce
Whisk together marinade ingredients. Place chicken wings in a large container and pour over marinade, cover and refrigerate for as long as possible, preferably overnight.
Pre-heat oven to 220°C, 425°F, Gas Mark 7 and bake chicken wings with marinade for 35-45 minutes, turning and basting frequently.